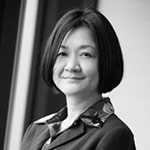 The heavens declare the glory of God;
the skies proclaim the work of his hands. (Psalm 19:1)
It has been my lifelong passion to paint landscapes inspired by my previous travel experiences. My landscapes include some of the most picturesque scenes in the world. These include the Aegean Sea, giant trees on Alisan, cypress forests in Hualien, or the beautiful Narcissus and romantic Wisteria in Greece.
The enchanting colors of the sea, trees, flowers, clouds, and skies are captured in my imagination as I observe them. In the stages that follow, I emphasize lights and reflections. I add motions such as waves and breezes. Years have passed, but I will never forget the moment when I began to express my emotions and feelings behind the scenes. I was able to open my spiritual eyes at that time. Over the years, my paintings have evolved into a deep appreciation of nature's magnificence, the wonder of creation, and my love of life.
There is always joy in the process of creating pieces for my own enjoyment. When my artwork can tell the stories of my travels and share my thoughts and passion, it is a journey that is worth all the time and effort it takes – a journey that journeys back to the source of creation, the source of light, and the source of love. Love never fails.
Exhibition Experience
EMBRACE Art Exhibition 2022, Taipei
EVOLUTION Art Exhibition 2018, Hong Kong