Cindy kang
KOREA
What Inspires You?
My inspirations are the natural and urban landscapes of the places I live in or visit. I take pictures of the moments I want to remember wherever I go, and my art making process starts from there. I also get inspired by the feelings and emotions, and heartwarming stories of people around me.
……all these creative challenges are what makes the whole process more exciting and motivating for better works in the future.
Why Do You Make This Type of Art?
My favorite moment is when I am at a place where I can hear the sound of nature and watch the sunset in silence with my closest people. This is when I become honest about my emotions, clear out the unnecessary thoughts, and feel at peace in mind – I am able to take a complete break.

Art allows the viewers to experience this moment by looking at the artwork. I aim to illustrate the scenes that show comfortable, happy moments as well as melancholic moments of our life, hoping that the viewers find the stories relatable to them and feel the comfort while looking at it.
What Does Your Artwork Represent?
Through the emotive and contemplative works, I illustrate my constant effort to find the calmness and happiness from a hectic lifestyle. The imaginative characters in the illustration that are often fairy-like figures reflect people doing what we need to do to find peace, whether it's just sitting still or taking a brave step outside our comfort zone.
How Do You Make It?
The whole process starts with the photograph I took. Based on what I saw and felt at the moment, I create artwork by adding imaginative figures and stories to convey my thoughts and feelings I had when the picture was taken. About the technique, I combine both traditional media and digital tools to create an image. I love the natural mistakes the traditional media makes, such as shaky lines and smudges of graphite, and the rough strokes of paint brushes. I tried to switch to digital media entirely because of its convenience, but I couldn't give up the beautiful textures I could get from using traditional media.
What Does Your Art Mean to You?
Art is essential, and it is the only thing that makes me feel alive. It allows me to express my thoughts, get healed from the process, remember the precious moments, and also communicate with the viewers and heal them as well.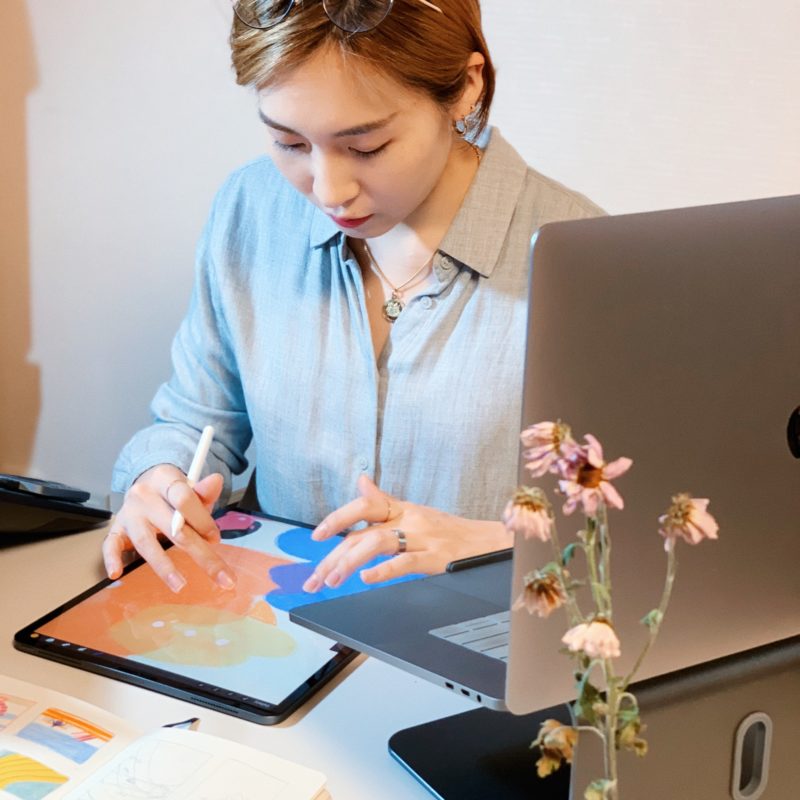 How do you intend to cultivate a collector base?
I actively participate in art events and exhibitions in New York City and Seoul, where I can showcase my works. I also work with the wonderful people at the Bright Agency on illustration projects for clients around the world by making effective visual solutions in the editorial and advertising field. As I continue to create thoughtful, heartwarming illustrations that tell various stories, I stay active and up to date on social media to open conversations about the work with many viewers.
Are there any difficulties you encounter in the process ?
Illustrating is always a challenge for me in how it needs to convey the atmosphere and message clearly while putting much effort into making a visually pleasing image. However, all these creative challenges are what makes the whole process more exciting and motivating for better works in the future.
Could you describe your style in 5 words ?
Contemplative, Peaceful, Emotive, Dreamy, Melancholy