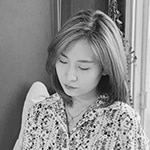 Cindy Kang is an artist and an award-winning illustrator born and raised in Seoul, Korea. She received a BFA in Illustration from the School of Visual Arts in New York.
Her emotive, contemplative works are inspired by the photographs of calm moments. Based on what she saw and felt at the moment when the picture was taken, she creates artwork by adding imaginative figures and stories to convey her thoughts and feelings. Predominantly focused on natural or urban landscapes, her works portray her constant effort to find the calmness and happiness from a hectic lifestyle.
Combining digital techniques and traditional media, she illustrates happy or often melancholic moments in various styles. She loves the natural textures of traditional media such as shaky lines, smudges of graphite, rough strokes of a paintbrush. These textures make the artwork come alive, allowing the viewers to interact, relate to the stories in the painting.