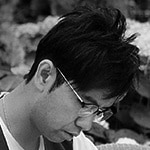 Born and raised in Hong Kong, Choy Yat Chun Anthony is an avid sketcher and watercolor
painter who finds joy through sketching around the streets of Hong Kong ( mainly Hong
Kong traditional buildings) and flower painting. He is an active local post-80s artist, also a
member of International Watercolor Society and an exhibitor at local cultural festivals. Since
2012, he began to use pen and ink pen to sketch different subject whatever animal, portrait,
cityscapes or countryside scene. The black line can reflect his emotion to the drawing object
and you can feel different expression from the width of the ink line. Since 2016, he began
studying watercolor and flower becoming the major object. The series of Hydrangea
paintings is the signature of his portfolio and now he is exploring different techniques to
depict the beauty of flower, so he went to Thailand and Taiwan for visiting several flower
painting masters to study and sketch everywhere in 2017.