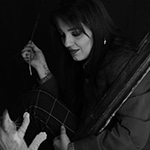 My name is Sophia, I'm 25. I'm an eclectic, colorful maximalist. I've been drawing since I was 3, I went to art high school, and later went on and became a certified print designer, and also a graphic design grad. I've been doing all kinds of art – primarily digital, but also traditional.
I love capturing everyday situations, emotions, food… I also love hearing different views on my art, and listen to other peoples opinions because everyone sees something different, and I love it.
I mostly use Procreate and beautiful dynamic duo of Adobe Illustrator and Photoshop. I started selling prints of my work a few months ago. I love doing prints because they last, and I see them as mementos of different kind of emotions and situations.