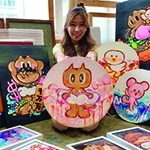 Mankee graduated in Product and Industrial Design from Hong Kong  Polytechnic University. She has many years of experience in children's picture books and gift and premium design.
She has aspirations to create more infectious works, delivering joy to the world like kapok, bringing some sweetness and warmth to the people around us.
A story of Kapok and Hoko the tricolour cat.
Hoko is a fat tricolour cat born on the 11th day of April, the legendary "Kapok Day" when the kapok is in full bloom. With a lively and cheerful personality, just like a kapok tree – also known as a hero tree. Full of justice and bravery, Hoko rides on a kapok cloud everyday, helping friends that are in a difficult place.