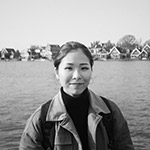 I use bright colors and simple lines to paint my life into my works.
I think that the interaction between people and our relationship with the natural environment can always feel infinite love, so in my works It is not difficult to find pictures of nature, flowers, fruits and people, especially women, because as a woman I have more feelings and inspirations.
At the same time, I am broadening my skills and creating more works other than print media so that my inspiration can be expressed in different forms.