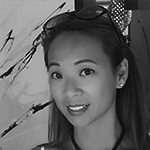 Debbie Kwok, a Hong Kong based artist whose art is inspired by her traveling. The main thrust of her work is in oil and acrylic. She takes much of her inspiration from nature, and the spirit of adventure and is influenced by the beauty of extreme environments.
Debbie started producing her art pieces in 2014. She finds art is one of the best forms of therapy. By communicating through her art, she gains a deeper understanding of both herself and her surroundings.
Her style is at times intertwined with semi-realism and covers a variety of themes which covers her own unique style and spiritual energy. With her capability to see things in a different perspective and feel the beauty of nature, she composes figurative works that inspired familiar scenes with curious twists, and portrait pop art by using vibrant color and pattern to depict the character's confident and beauty.
Debbie has completed art courses at the Central Saint Martins, UK to help her further develop her artistic skills and techniques. Her work has been exhibited in Hong Kong and Taiwan.