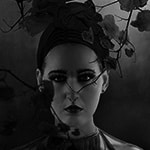 Anne's pop surrealist figurative painting focuses on fantasy worlds and imaginary creatures. Her background in fashion & costume design and children book illustration, combined with her love for the old masters, fairy tales and Chinese tradition result in a blend of classic storytelling, fashion magazine advertising and Surrealism. Her goal is to provoke the viewer to see beyond our conventional perception of reality.
In her world, she provides infinite variations of the plausible and multiple facets of experience. She depicts solitary souls with an expression that lacks emotion and makes them seem untouchable.
Exploring imaginary creatures that lead back to Greco-Roman and Asian mythology is her way to learn more about the cultures that created them. The human mind has a passionate longing for knowledge even of things past comprehension. Where it cannot know, the imagination supplies the void. Imaginary creatures continue to thrill, terrify, entertain, and inspire us, giving shape to humankind's greatest hopes, fears and most passionate dreams.
For Anne the bizarre beauty and dreamy world of Pop Surrealism provides the perfect outlet to give shape to her imaginary world. That's why she adopted this genre for her artwork. Anne paints in oil on canvas, using the traditional technique of the old masters that she acquired during her studies in Italy.
Recently she is producing digital artwork with Procreate on ipadPro.