Alice Damong Lin is a talented painter whose background in business has influenced her approach to art. Her passion for painting, however, has always driven her. Her business acumen has played an important role in her evolution as an artist. Join me as we explore how Alice's business background has helped her to develop as a painting artist.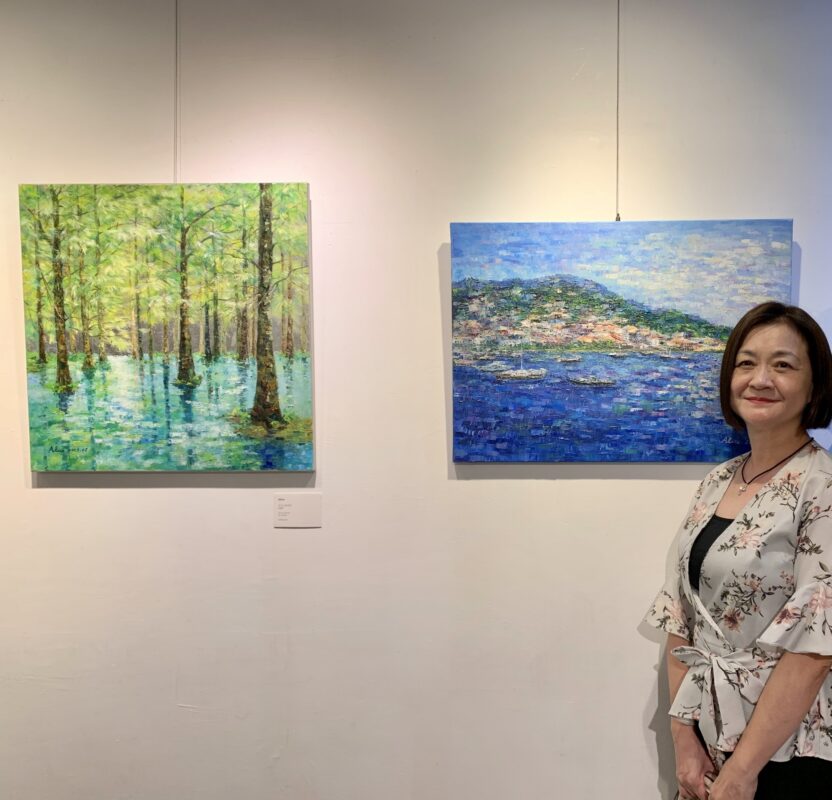 Alice Damong Lin was born and grew up in Taiwan. As a bachelor of management science from NYCU and an MBA from the University of Chicago, she has spent the past few decades as a business advisor in the management consulting industry and as a management leader for multinational companies. As a strategic planner, market researcher, and business model expert, she has developed innovative strategies to increase market share and optimize business operations. In addition to working with multicultural and multifunctional teams, she is experienced in various industries such as banking and finance, fintech, IT, and telecom. Before Covid-19, she traveled around the world visiting many interesting places and meeting or working with people from diverse backgrounds for business and personal reasons.
Become an artist: the journey begins
Alice has been passionate about drawing and painting since she was a little girl. In her middle school days, she won several prizes in life drawing competitions. Although she took a different career path in her early years, she never forgot her dream of becoming an artist as a little girl. "It is a calling from my deep soul." She added.
A couple of years later, after retiring from her full-time job, she was able to devote more time and energy to what she really liked to do. She has been attending workshops and programs at Studio 83, an art studio in Taipei, for the past 6 years. In these workshops, she has improved her painting skills and joined an artistic community.
The support behind that motivates her
The process of creating artwork is always a joyful one, for her own pleasure. However, she also gains praise and cheers whenever she shows them to her friends and family, or has them share them through social media. The love on her works motivated and encouraged her to continue her pursuit of becoming an artist. She finds even greater joy when her artworks now tell the stories and insights behind them. Aside from that, her artworks serve as carriers for thoughts and inspiration to be shared and exchanged.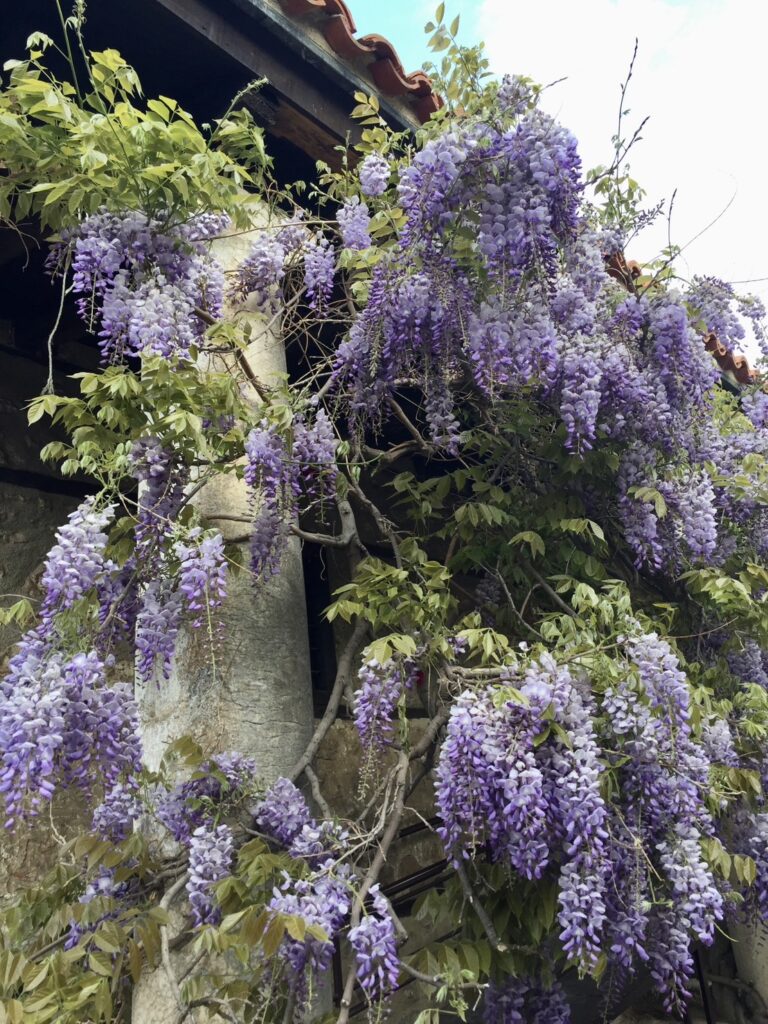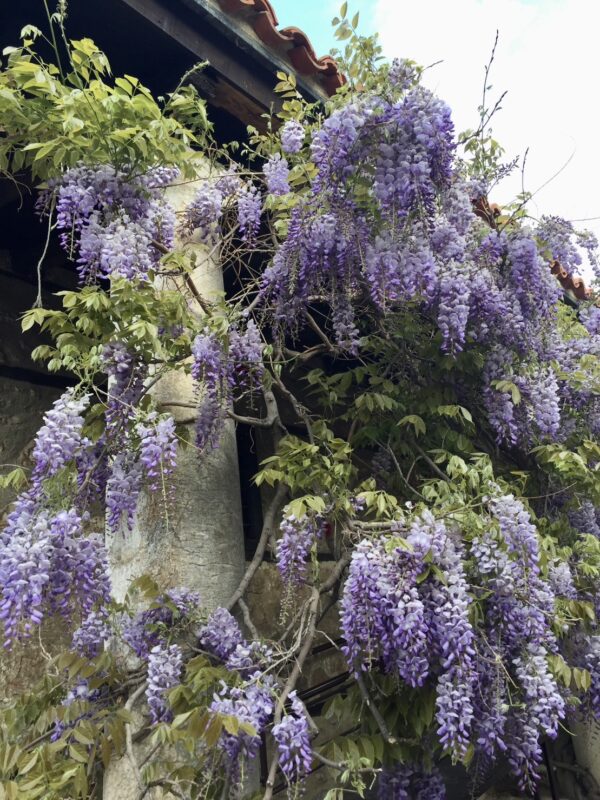 Skillsets that are constantly evolving
Through her past professional training and disciplines, Alice has developed strategic thinking, attention to detail, and aesthetic sensibility skills. Thus, she was able to apply these skills to the art creation process, creating intricate landscapes and applying this sense of design to her painting. Furthermore, she has learned from previous work experience that creating high-quality artwork requires discipline and focus. The travel experiences and work backgrounds that have been incorporated into her artworks are the result of her exposure to cultures, people, and landscapes of different countries and cultures.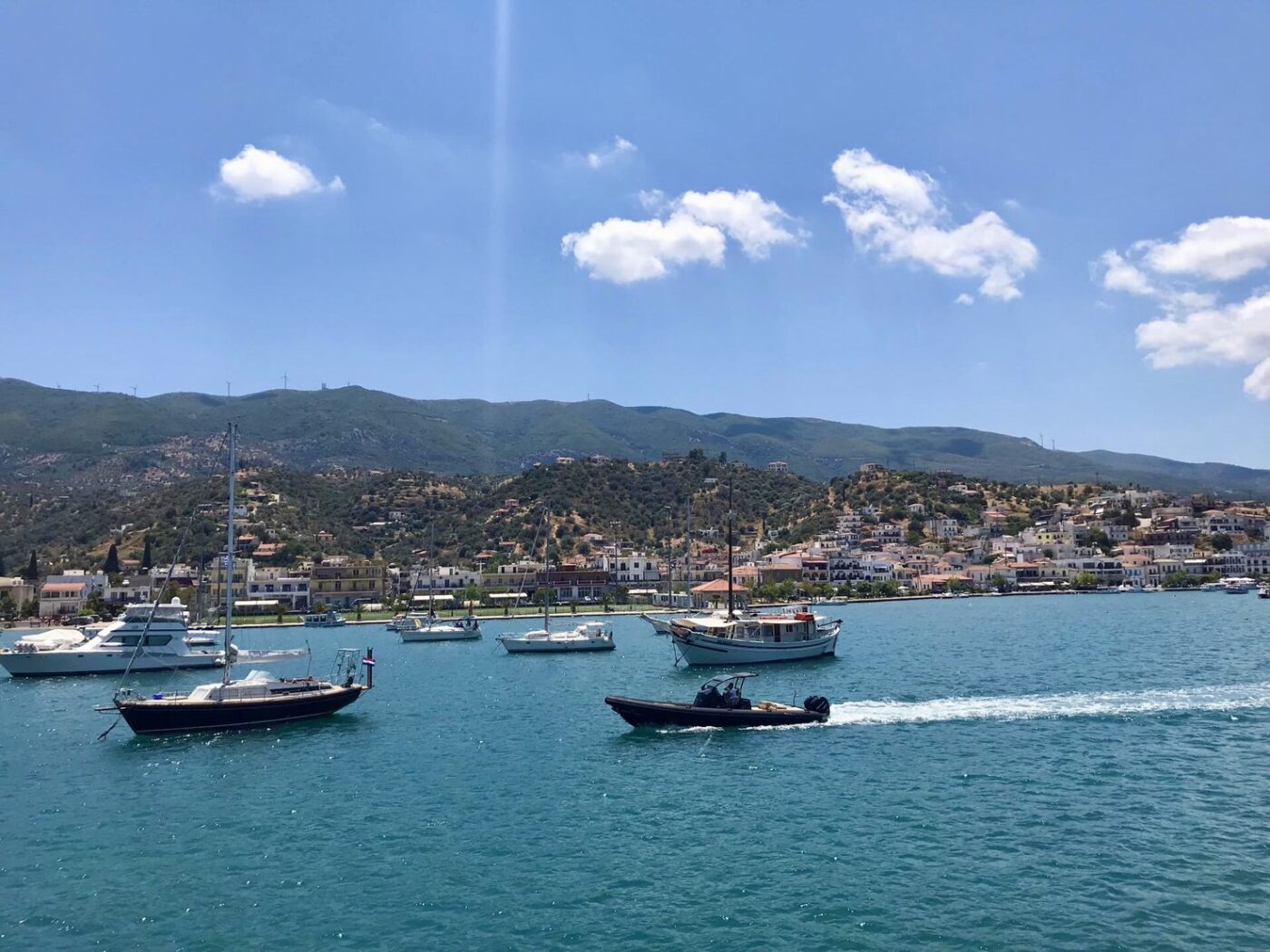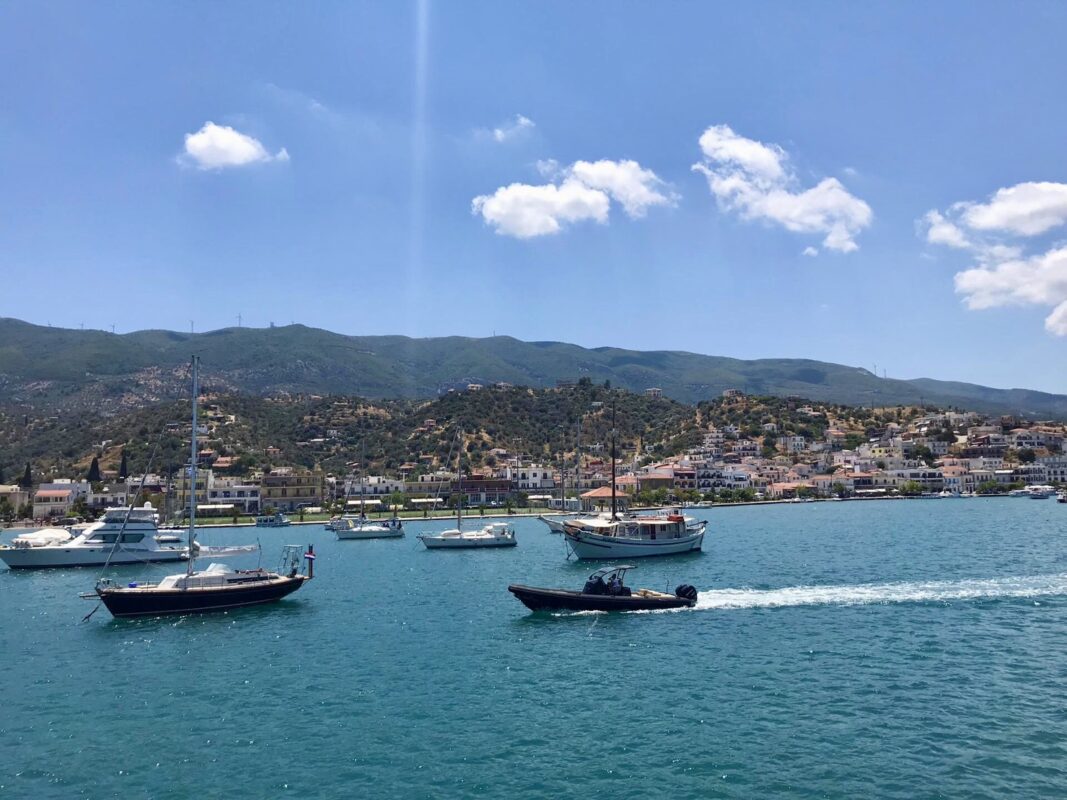 Her travel experiences inspire the landscape paintings she creates. Every time she saw a beautiful scene, she was driven to paint it. In her art, she strives to capture both the beauty of nature and the emotions it evokes in her. She uses color, light, and motion in her paintings to convey depth and movement, aiming to envelop the viewer in the scene and convey the sense of wonder and amazement that she feels when surrounded by nature.
The Glory of Art
Her faith is another important aspect of her art. She believes nature is a reflection of God's glory as stated in her artist statement in Psalm 19:1. Through her art, she hopes to convey the sense of peace and wonder that comes from contemplating God's majesty. Her art is like an invitation to view God's creation. Through her artwork, she would like to invite the viewer to journey together with her in search of the source of colors, lights, all creations, and ultimately, love. God is love.
Cultivate as an artist
Her experience as an artist has taught her that visiting museums and art exhibitions is a great way to gain exposure to different types of art styles and techniques. Taking workshops and classes provides her with a chance to learn from other artists as well as receive constructive feedback on her work. Also, she enjoys watching instruction videos and reading books about painting techniques.
As an artist, she believes that practice is crucial to improving her skills and building her confidence. She also recommends setting aside time for practicing and experimenting regularly. Her artistic voice is also developed over time through the pursuit of opportunities to create and share her work with others, whether through social media or art exhibitions. Through a combination of exploration, experimentation, and education, she committed to continuing to learn and grow as an artist.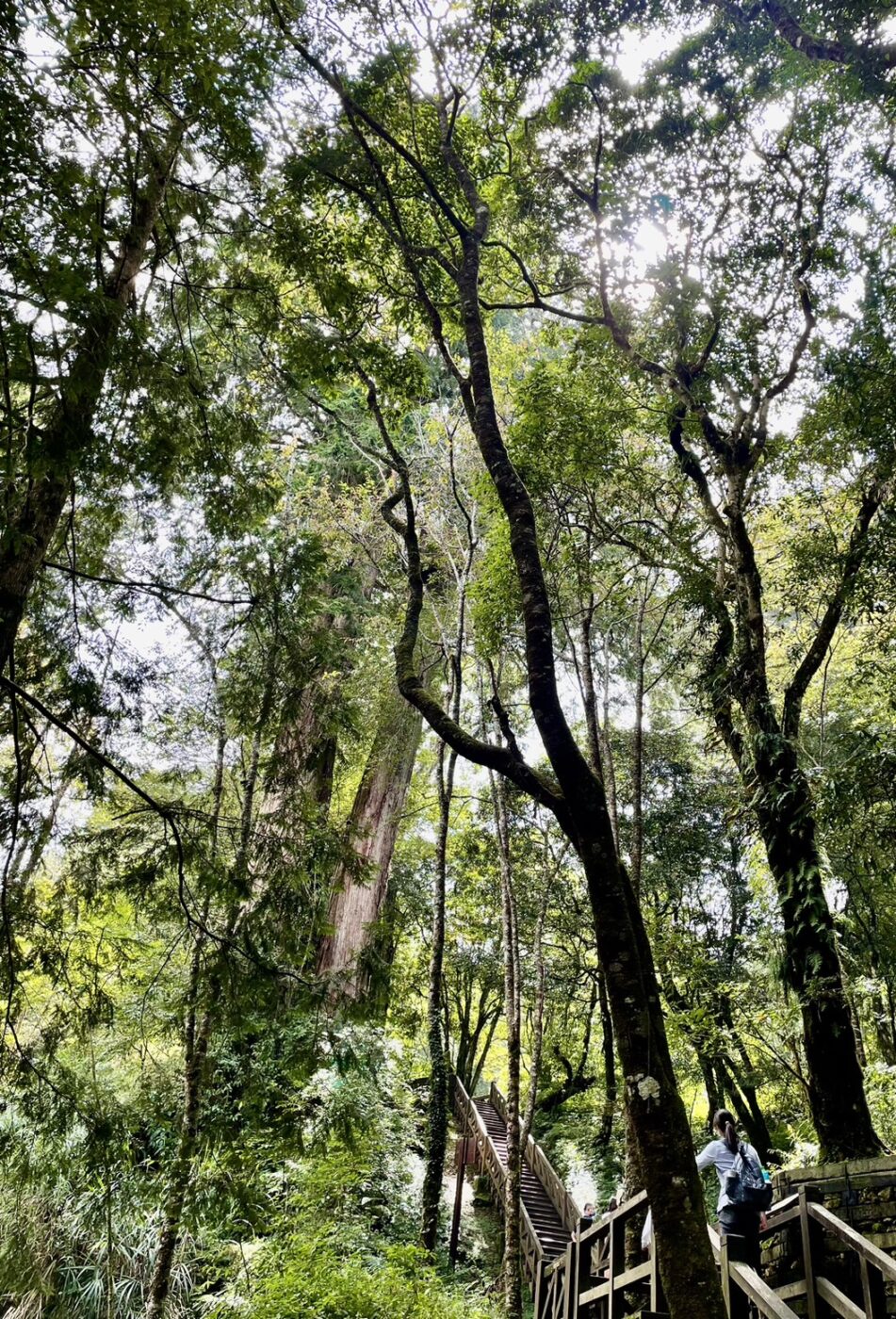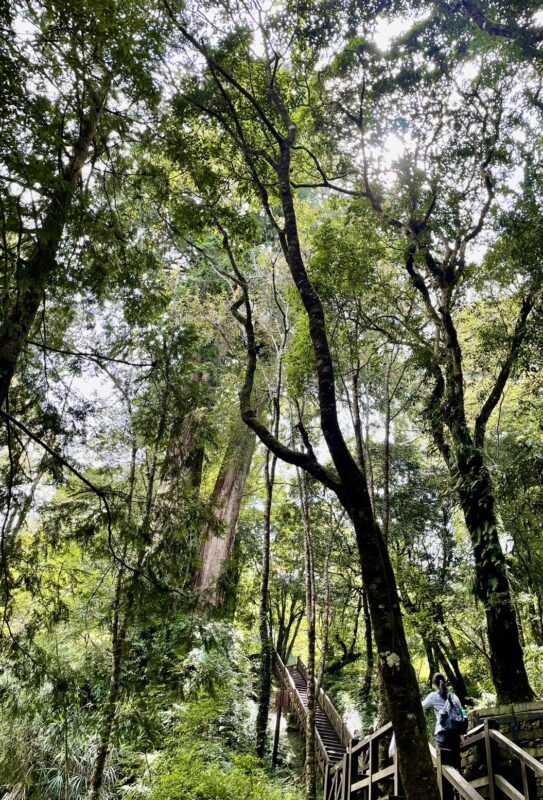 Love for 3000 years
There is always a story behind every great painting and Alice shared with us one of the stories behind her painting " Love for 3000 years". During her visit to Alishan, Taiwan's national forest park, she came across a giant red cypress tree with double forks. The sign said that the tree was estimated to be about 2000 years old, and it is 35 meters tall, 11 meters in circumference, and 2215 meters in altitude. She was amazed by how tall and strong it is. The two giant trees are standing together as if they have been leaned on for 2000 years, and it appears they will continue to do so for another 1000 years as well. It was as if they were a senior couple, living together, loving each other, and walking through many of life's challenges. Even though they are old, their love is stronger than ever, and the leaves are still green. Regardless of how difficult the situation might be, love can endure it. Painting this scene, she highlighted the strength and beauty of the trees, their intertwined branches, and the love they represent, creating a painting that celebrates the power and beauty of love.
Taiwan – a cultural hub
In response to our questions about Taiwan art market updates, Alice was delighted to share some updates. " In Taiwan, the art market is thriving, especially in contemporary art, and there are many museums, galleries, and fairs around the island," she said.
She believes Taiwan's cultural heritage and tradition of supporting the arts help explain the market's growth. The Taipei Biennial, which takes place every two years and attracts artists and collectors from around the world, is one of the most significant art events in Taiwan. As part of Taiwan's return to hosting international art fairs, Art Taipei is one of those, setting the tone for contemporary and young Asian art, while Taipei International Art Village hosts artists from all over the globe for residencies and exhibitions. Global art fairs have obviously been affected by COVID since 2020, but in 2021, as collectors became accustomed to online browsing and trading, sales of artwork rebounded.
"Catching up this global trend of post COVID, Taiwan is still a dynamic and evolving art market, mainly focusing on contemporary art, and expanding internationally." She added.